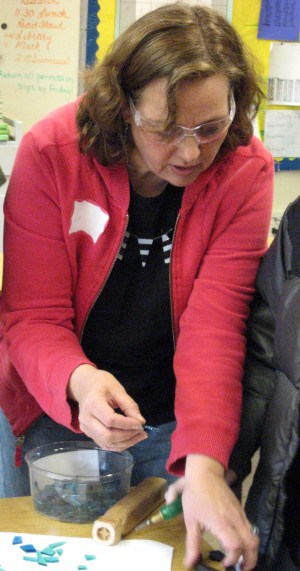 Lisa Wilcke didn't always think of herself as a working artist, despite years of volunteering in her children's classrooms. Following a degree in Political Science and stints working as a litigation and research assistant in securities and intellectual property law, Lisa put that path on hold to raise her now 22 and 16 year old children. 10 years after joining Young Audiences roster as a Teaching Artist – when Lisa learned that what she was doing as a volunteer was actually a job – she now devotes much of her non-teaching time to her garden and to soon-to-be-launched blogs: one about glass and one about lichens.
With years of glass making under her belt, Lisa freely admits that "Owing to the enormous amount of glass in my house, it is probably the last place someone would want to be in an earthquake." I guess we'll keep our looking to Lisa's school projects…
Hometown: I was born in Seattle but moved to Portland on my 7th birthday.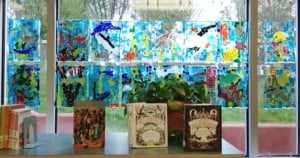 What is your art practice outside of teaching? For a while now, I have been writing a book about glass so most of what I have been doing is trying all sorts of different glass making techniques to illustrate my book. My favorite is glass casting and my least favorite is glass blowing, because I have yet to make anything that is any good.
How does Oregon inspire your art making? Oregon is the epicenter of kiln-formed glass art so I feel I am right where I belong.
If you could be any animal, what would you be? An otter, I love to play in the water.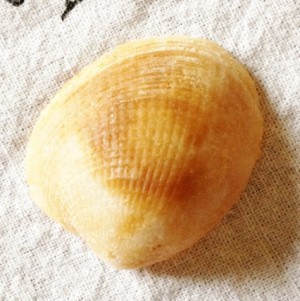 What is one of your earliest art memories? In fourth grade we made pictures of burning buildings with tissue paper flames shooting out the windows. I loved the drama and dimension of it.
What's the best thing about being a Young Audiences teaching artist? The kids. They surprise me everyday with their sharing, observations and questions. I love it when they ask something I have never wondered.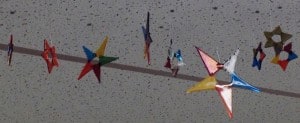 Why is art important to kids? It allows risk taking without punishment. Glass art is really wonderful for "what if" because it always looks good.
What teacher or artist was inspirational to you as a kid? When I was little my dad was obsessed with photography and even after he had shifted his passion to all things fish, he still saw the world as if through a lens and I find myself framing what I see, much as he did.
Who is your art hero now? There is a very exciting young glass artist named April Surgent who fuses layers of glass together then carves black & white photo-like images into the surface. Her work is innovative, unique & breathtakingly beautiful.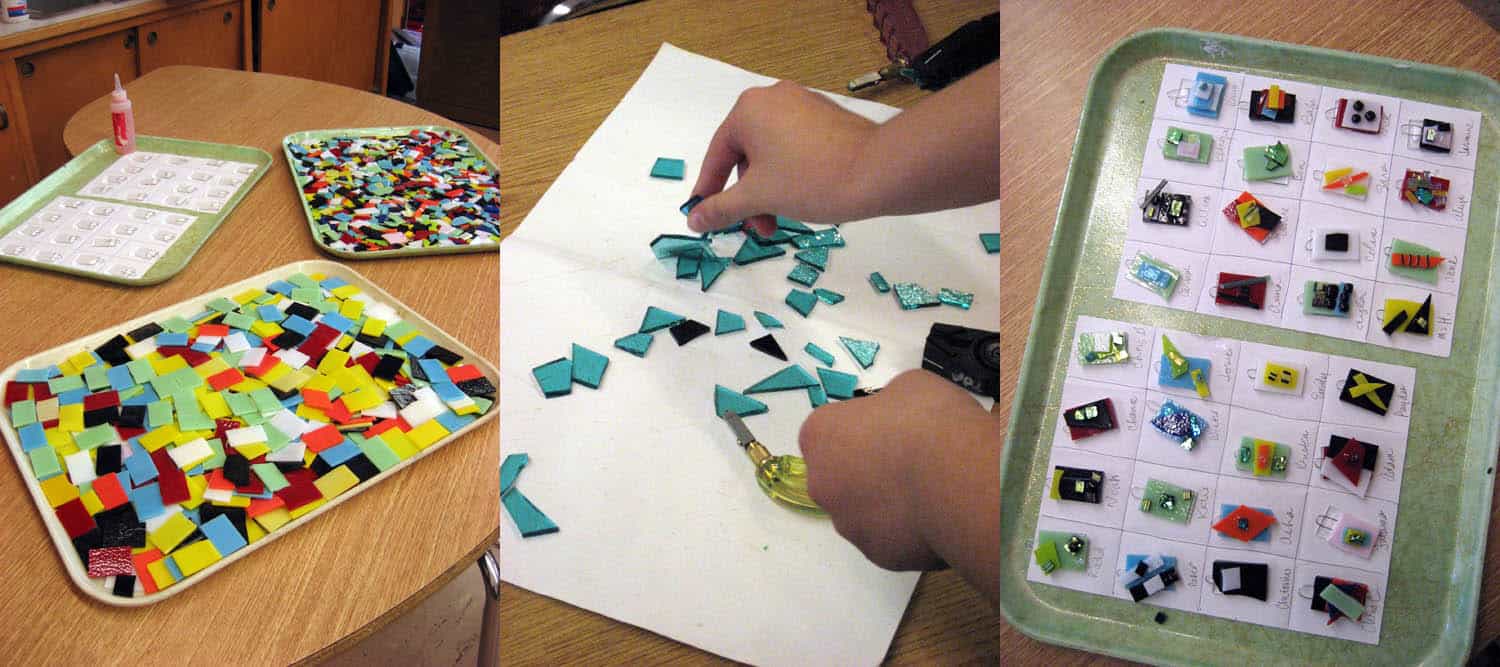 If you weren't an artist, what would you be? My bachelor's degree is in political science and I am very drawn to the idea that in our country we control our government. I love that it gets messy and people care so much. While I don't think I would like to run for office, I could see myself helping in the political arena.
Stay up to date with all things lichen on Lisa's new LichenLogLichenBlog.