The end of the school year is always an exciting and busy time. This year has been no exception. With performances, residencies, workshops, and family arts nights our teaching artists and staff have been busier than ever. We have also been busy celebrating some wonderful awards and making big plans for the upcoming year.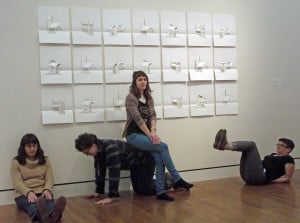 The Fred Fields Fund of The Oregon Community Foundation awarded Young Audiences $20,000 and The Oregon Arts Commission $9,800 for implementation and expansion of our Teaching Artist Studio. This support will allow Young Audiences to serve more teaching artist and expand geographic reach with partners including Lane Arts Council.
Thanks to support from Young Audiences National and The Mentor Graphics Foundation, we will pilot a brand new program in 2015: Live Sound Engineering for Teens (Live SET). More information coming soon about this exciting STEAM project.
We are also thrilled to receive a $10,000 grant from the JW & HM Goodman Foundation to improve operational efficiency with technology upgrades. Goodbye hand-entry accounting and maxed out server! Hello 2014! Huge thanks to all of our local and state funders who make our work possible.