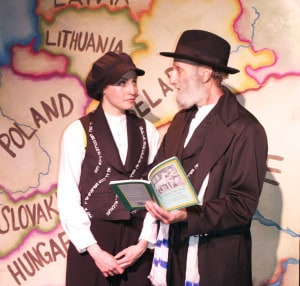 Page2Stage Express has been teaching with Young Audiences of Oregon & SW Washington since 2012 and is 100% committed to adapting stories from books—moving words from the page, to words and actions on the stage! We caught up with Kenneth Gordon to learn more about P2S Express.
What is your art practice outside of teaching? We do narrative adaptation 24/7. It's a thrilling art form that activates audience imagination in a powerful way. Our style preserves much of the authors' written words by turning narration into dialogue. It makes for an immersive storytelling experience that brings to life the literature in a new light.
How does Oregon inspire your art making? Oregon is a literate state and innovative. Books and stories are important here. People here are excited about finding new and creative ways to do things. Oregon inspires our search for innovative ways to reach audiences, to press the traditional limits of theatre and books to engage audiences more dynamically and more deeply.
What fuels your creative practice? Collaboration. Community. The way the projects are developed and the community they are developed for fuels our creative process.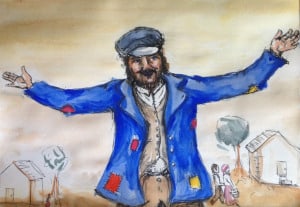 If your organization was an animal, what would it be? We would be a collection of paper cranes, folded from the pages of the books and stories we perform. We work as a collaborative company, so everyone brings their own perspective and strengths to the process. The shows we present are themselves a tapestry of our company's care and enthusiasm, reflective of the various intentions one would put into making a paper crane.
What is one of your earliest art memories? I was raised attending the Oregon Shakespeare Festival and attending my parents' enrichment classes there that brought in scholars and performers. In one such class, an artist performing in Coriolanus shared her struggle with a serious moment in the play that the audience consistently laughed. She told us about what she had been doing and an adjustment that she was going to try. I saw the play before and with that adjustment and the impact was searing. The audience couldn't breathe, the tension was so thick. This experience trained me to watch performances—as though under a microscope—for the myriad of choices made from moment to moment that come together to tell a complex story.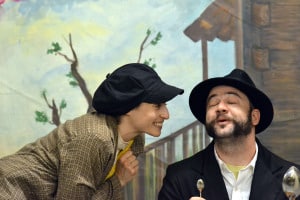 What's the best thing about being a Young Audiences teaching artist? Knowing that the work we do makes an impact on our community's youth. Our performances inspire and entertain, they nourish students' imaginations and their capacity for critical thinking. We create opportunities for students to make personal connections to the stories we present and lead talkback discussions so that content becomes a springboard for further exploration, both inside and outside of the classroom.
Why is art important to kids? Theatre resonates deeply with young minds in a truly magical way. It offers a vicarious, visceral experience. It helps them appreciate diverse perspectives and motivations in a way that broadens world views. It helps them make meaning of the world around them. It is a way to meaningfully convey and embed content and messages. Our performances encourage a love of reading, community engagement and vital leadership skills.
What teacher or artist was inspirational to you as a kid? In the early years of Harriet Tubman Middle School, my theatre teacher, Adele White, inspired and ignited me with her passion. She created an ensemble of her students and treated us as artists. She role modeled for me that the tools of theatre are powerful tools outside of traditional theatre settings. In addition to shows like Alice in Wonderland, she frequently mobilized us, her students, for school-wide assemblies about social justice.
Who is your art hero now? My Core Company of artists [Wendy Wilcox, Jamie M. Rea, Doren Elias, Avital Rutenberg Schoenberg] are my art heroes. They bring such diverse perspectives, skills and imaginations to the creative process. It never fails to broaden my thinking and the scope of what we can accomplish.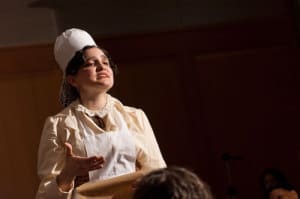 What is a favorite memory of creating or performing? (From one of our performers): In Life, Liberty and the Pursuit of Well-Being, during the NY School Board scene the students become members of the board and vote enthusiastically, "Aye!", for playgrounds and school lunches (to feed the starving brains of school children in 1900). Then during the talkback, when we ask the students what kind of challenges they encounter in their lives, in their schools, in their communities, a youth raised his hand and said that there was not enough to eat in the school lunch, that he was hungry. Another unforgettable experience was when the students left the performance and initiated a school-wide petition to improve the quality of their school lunch program.
Who are your performances for? Anyone can appreciate our shows. They are impactful for students who don't often get to see theatre as well as those kids who do and are ready for something more engaging and dynamic. Life, Liberty and the Pursuit of Well-Being: the Story of Lillian Wald is great for 4th graders and up to be inspired to an American heroine who changed the world—a catalyst for conversations on civic engagement, collaboration and being empowered members of the community. The Adventures of Hershel of Ostropol is a folktales performance based on retellings by local treasure, Eric A Kimmel. Through Hershel, a trickster in the tradition of Anansi or Coyote, we present a hilarious and content driven performance that addresses poverty, community and overcoming hardship through humor.
Learn even more about Page2Stage Express on their wesbite and watch videos on their You Tube channel. To schedule a performance at your school, contact Josephine Kuever, School Liaison, at 503-225-5900 x231 or email [email protected]