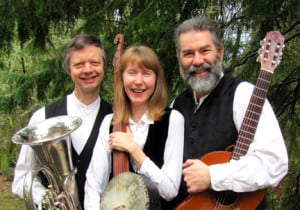 With decades of teaching and playing experience, the three artists who comprise the Oregon Trail Trio have plenty of history to share. From the origins of the banjo to the culture of the Oregon Territory, members Mick Doherty (Hammer Dulcimer, Guitar, Vocals), Gayle Neuman (Fiddle, Banjo, Flageolet, Vocals), and Phil Neuman (Tuba, Flageolet, Serpent, Vocals), will bring the past to life in song and stories. To book a performance where everyone will be singing along (and to find out just what a Serpent sounds like), contact School Liaison Josephine Kuever at 503-225-5900 x231 or [email protected].
What are the origins of the Oregon Trail Trio?
Mick: In 1991 we met as founding members of the Trail Band. The group formed by Marv Ross as part of a musical theatre piece he wrote for the Sesquicentennial of the Oregon Trail. Once the play had finished touring the state, in 1993, we traveled to Japan for a series of performances. Gayle, Phil and I began playing "side gigs" as the Oregon Trail Trio, and had a lot of fun. So we still do!
What is your art practice outside of teaching?
Mick: I perform music in various ensembles, including as a member of the Trail Band with Phil and Gayle Neuman. I work as musician, sound effects guy (noisemaker!) and voice actor with Deb Chase as Oregon Shadow Theatre. I teach music workshops for hammer dulcimer students at festivals, and also teach private music lessons.
Phil and Gayle: In addition to the Trail Band, we direct the 12 member Oregon Renaissance Band, and build replicas of renaissance wind and string instruments including racketts, krummhorns, vielles, and rebecs. We also play in Pioneer Brass where we play trombones and tuba.
How long have you taught with Young Audiences?
Mick: I've been involved with Young Audiences for 30 years. Deb Chase and I formed Oregon Shadow Theatre and began presenting programs through YA in the mid 1980's. Through the years I've taught songwriting residencies and performed a number of different music programs with different ensembles. For a time I served as an artist representative to the board of YA.
How does Oregon inspire or drive your art making?
Mick: I'm the immigrant of the trio, our "east coast refugee." From my first trip, the culture of the west felt open and welcoming to me. When I met my future wife, a native Oregonian, the die was cast! In terms of our program, of course, both Oregon and the culture of immigration are central.
Gayle: I was born in Oregon City, and we live there now, too. We like being in contact with the historical museums and even made a recording using the 19th century square piano at Rose Farm. Phil is from McMinnville.
What fuels your creative practice?
Mick: Music is an emotional spark. As a performer, there is great pleasure in sharing polished bits of sound. When we can place the music in a historical and cultural context, a depth of understanding is possible.
Phil: It would be amazing to travel back in time and experience what life was like in the past. Playing historical music on period instruments is one way to experience a small part of it.
What is one of your earliest art memories?
Mick: In my large family there was always singing. My mom played piano, and we'd gather round and sing. When my older siblings began playing little nylon stringed guitars, I was immediately taken in.
Phil: My older brother playing trombone. It made me wonder what it would be like to play a large brass instrument, so I started playing tuba as soon as possible.
Gayle: At some point before I was in 1st grade I saw a violinist on TV and wanted to play it from that moment.
What's the best thing about being a Young Audiences teaching artist?
Mick: The young audiences, of course! Getting to interact with kids, respond to their questions, share laughter with them, is great.
Gayle: Doing what I can to inspire in them a love of music, as artists did for me at that age.
Phil: I like introducing unfamiliar instruments and music to kids to help them realize there is much more to the field of music than they might have thought.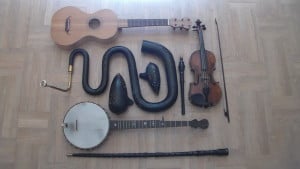 Why is art important to kids?
Mick: Aside from the new scientific evidence about music and brain development, music (and all art!) expand our notions of communication, expression and curiosity.
Phil: All kids have an artistic side, and exposure to art helps to fuel the artistic contributions they will make to our culture.
What teacher or artist was inspirational to you as a kid?
Gayle: My school orchestra teachers, Viljo Hillend and Ben Brooks. I would not have been able to become a musician without their fine work in the Oregon City Public Schools.
Phil: My music teachers in McMinnville Public Schools, Don Boudon, Erv Royer, Don Scott and John Dulaney.
What is a favorite memory of creating or performing?
Mick: Singing around a fire with friends is pretty much the holy grail, for me.
Phil: Playing ancient Greek music at a summer outdoor performance at the Getty Center in LA.
Gayle: Playing for an audience of 3000 in Cleveland at Trail Band's first performance.
If you weren't an artist, what would you be?
Mick: Sad. Also, possibly, digging ditches or practicing rough carpentry :)
What was your strangest gig?
Mick: Playing in North Korea on a Mercy Corps trip with Marv and Rindy Ross and Eddie Parente. Being herded to monuments and government events, being watched by government "minders", all while having no interaction with regular citizens of the country was intense and oppressive. Yet, once we got to the concert hall, the humanity of the interaction between performer and audience was universally familiar. Strange, indeed.
Gayle: Playing on a tiny balcony over a fireplace in a house in Cannon Beach many years ago. It was also the place I discovered how much I like asparagus.
Phil: Leading a wedding party down the beach and across Highway 101 while playing pipe and tabor in renaissance costume.
Learn more about Mick Doherty here (and watch some amazing hammer dulcimer videos) and and find out about Gayle and Phil's other artistic pursuits here. Watch below for a taste of the full Trail Band experience.