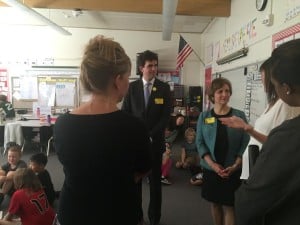 On Monday, May 2, 2016 Congresswoman Susan Bonamici toured Cedar Mill Elementary with Principal Brian Horne and Cary Clarke, Executive Director Young Audiences of Oregon & SW Washington.
Bonamici observed part of an Arts for Learning teaching artist residency to see the impact arts-integrated curriculum is having on students. Arts for Learning (A4L) is a Young Audiences arts-integrated curriculum that produces reliable gains in literacy and life skills for third, fourth and fifth graders – with greater impact on English Language Learner (ELL) and economically disadvantaged students.  In 2015, A4L reached 9,100 students and 342 teachers in the Beaverton School District.
From 2010 to 2015, Beaverton School District, in partnership with Young Audiences, was the recipient of an Investing in Innovation (i3) grant from the U.S. Department of Education for the implementation and evaluation of the Arts for Learning curriculum. The results were positive, especially for English Language Learners and students from low income households. As a result, Beaverton School District has continued to fund Arts for Learning in their classrooms.
While Bonamici observed, students worked on A4L's Unit 5: Words in Motion curriculum and learned about poetry while choreographing their own dances with the help of Young Audiences Teaching Artist Elizabeth Burden.