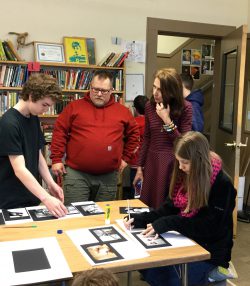 It's September. We're welcoming students, getting to know their families, learning about the temperament of our class and how they'll work together and–oh yes–establishing a culture of learning throughout the year. This is the perfect time to invite a guest teaching artist into your classroom.
We often avoid the fall for field trips or guests. Kids are learning the ropes of their new grade level and their new class culture, getting used to waking up earlier and being in a large group for most of the day. Why would we want to add the unknown of a teaching artist to that mix?
To set the tone for a year of arts integrated learning!
A Right Brain residency is designed to offer two things to the classroom:
An opportunity for students to engage with the curriculum using a creative process.

An opportunity for classroom teachers to observe teaching artists using one or more arts integrated teaching strategies they can then apply to their work with students in the same or in other content areas.
What better time to introduce these opportunities than at the beginning of the year?
We have a tendency to wait, to keep the fall unnaturally calm, postponing field trips and visitors until we have created procedures that support smooth transitions. Learning, however, isn't always a smooth endeavor. What if instead we started the year by giving our students the experience that learning can be loud and messy and take us in unexpected directions and that within that we can still create a productive rhythm for learning; one that supports multiple learning styles and levels working together respectfully and vigorously?
Using an arts integrated residency in the fall to kick off a year of learning
Establishes arts integration as one of the teaching strategies you will use during the year.

Demonstrates work strategies to use with multiple learning styles including visual, auditory and kinesthetic.

Introduces students to the classroom as a space for questioning and continued exploration.

Allows time for large and small group, and individual work- helping create and reinforce a classroom culture of collaboration.

Provides a unique common foundational experience that can be drawn on throughout the year.
If we begin the year with open-ended, arts based learning experiences, that becomes the norm and it becomes easier for us and our students to build on those experiences over the course of the year.