YA Launches new Mobile Creativity Lab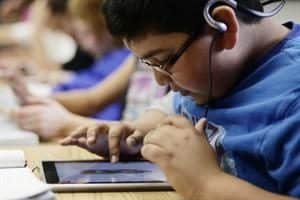 Students at Beaumont Middle School are finding out what happens when digital beats and the classroom meet. Using Young Audiences' new Mobile Creativity Lab, Beaumont students are working with Young Audiences teaching artist Mo Phillips to create new songs to express themselves with the iPad application, Garage Band.
So what is the Mobile Creativity Lab? It's a suite of 35 iPads and related software designed to reach students from low-income schools where access to the latest technology isn't always available. With that in mind, and by partnering with the Mt. Hood Cable Regulatory Commission, Young Audiences is bridging the gap between technology and the arts to engage young people in their education. Whether writing songs about their curriculum or painting natural objects viewed through an iPad magnifying glass, students will have plenty of hands-on time with the tablets to develop media literacy as they create digital art.