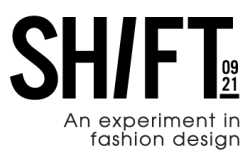 SHIFT: An experiment in fashion design was more than a runway show. It was a community celebration. It was the start of a new tradition!
On Thursday, September 21, 2017 SHIFT: An experiment in fashion design brought together some of the region's most innovative design thinkers for our first annual fundraiser celebrating equitable education, creativity in the classroom, and sustainable fashion.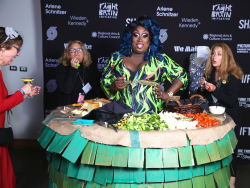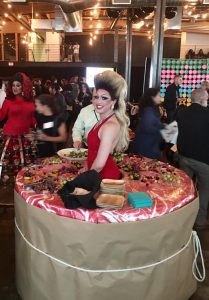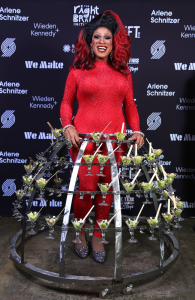 DJ VNPRT setting the tone for the evening as guests arrived to Leftbank Annex for an evening of fashion, food, and fun! The festivities began with catering from Vibrant Table that was served on rolling dress tables that were designed and costumed by SHIFT Squad (event planning committee) member Caleb Bourgeois. The table dresses were beautifully navigated by three local drag queen celebrities: Alexis Campbell Starr, Pricilla Blackstone (Maurice Hines), and Miss Bee Haven (Cody Howerton). Thanks to generous donations from A to Z Wineworks, House Spirits Distillery, and Widmer Brothers Brewing, tasty adult libations were available throughout the night.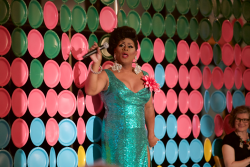 One of our favorite local celebrities and drag queens, Poison Waters, kicked off the official program as our emcee and captured the hearts of attendees and designers alike. The runway show featured nineteen garments made by both novice creators and seasoned designers. Back in June of this year, Right Brain sent out a Call for Designers and the final nineteen designers or design teams were selected by our SHIFT Squad.
The SHIFT designers included:
Jason Calderon
Helen Daltoso & Fred Williams
Elizabeth Jane Doran
Katherine Drew & Jane Drew
Jess Graff
Amarette Gregor
Sinéad Kimbrell
Amanda Kronlage
Katilyn McKenzie
Emily Murrell
Onyx (Kristin Calhoun, Eugenie Jolivett Fontana, Jack Quinn MacNichol)
Úna Rose of Looptworks
Lizzie Russell
Natilee Talvan
Jennifer Thoreson
Nina Troutman
Orquidia Violeta
Andrew Young
Ahmed Yusuf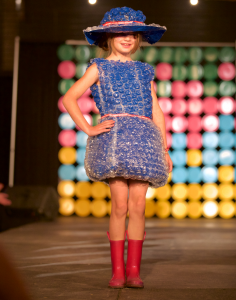 Each designer or team was tasked with the goal of creating garments made from recycled materials and found objects, knowing that each garment would be judged based on the following five characteristics: innovation, whimsy, level of difficulty, quality of construction, and runway presence. Each garment was modeled down the runway as Poison Waters provided a brief description of its source materials and the designer.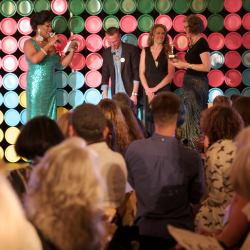 The judges for the SHIFT included Nancy Judd, founder of Recycle Runway and a Right Brain teaching artist, Brooke Olzendam, local TV personality and sideline reporter for the Portland Trail Blazers, and Adam Arnold, designer and founder of Adam Arnold Studio.
These brilliant minds came together to award cash prizes to the third place winner ($250) Andrew Young for his garment A requiem for the dearly disposed. Lizzie Russell ($500) as runner up for her garment Under Construction. Lizzie was also the proud winner of the People's Choice Award, a prize that SHIFT attendees voted for in real time during the event. Best in Show was awarded to Kaitlyn McKenzie ($1,000) for her creations The Enfant Poission: Ecstacy and Chaos.  Kaitlyn is sharing her prize money with both her performers and The Ocean Cleanup, a nonprofit organization devoted to cleaning plastics from our oceans.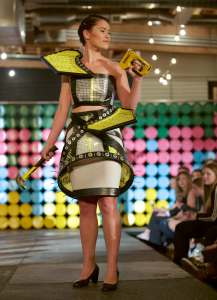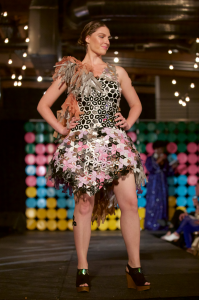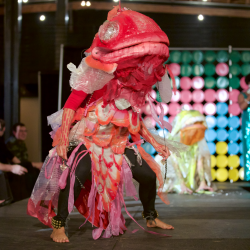 We're excited to share that two of the nineteen selected designers were Right Brain students! Natilee and Emily completed the fifth grade at Hall Elementary in the Gresham-Barlow School District last year and were thrilled to make their fashion world debut at SHIFT. We also had the pleasure of welcoming Fardos and Sean from Hollydale Elementary in the Gresham-Barlow School District to the SHIFT stage. Fardos's and Sean's classes worked with SHIFT judge and Right Brain teaching artist Nancy Judd to create their own sustainable garments during their Right Brain artist residency last school year. Thanks to all of our designers, the runway was filled with creativity and excitement throughout the evening!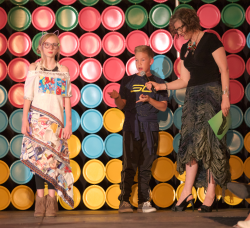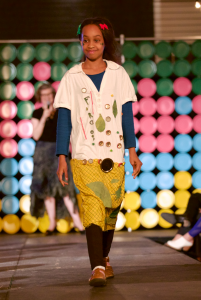 The energy of the runway show extended into our silent auction and a halftime paddle raise. Thanks to all of our silent auction sponsors and Alix Zimmermann of Artisan Auctions, we netted a final income of over $25,000 raised for The Right Brain Initiative!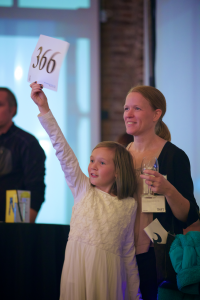 The evening would not have been possible without our presenting sponsor, Arlene Schnitzer. Thank you for helping us make our first annual fundraiser a reality. We are also grateful for our full lineup of event sponsors including the Portland Trail Blazers, WeMake, Wieden + Kennedy, Moda Health, Vibrant Table Catering & Events, Jane and Katherine Drew, Bridge & Burn, Picture This Production Services & Stage, Pinnacle Exhibits, and US Bank. We'd like to extend a very special thanks to the SHIFT Squad event committee and an amazing crew of volunteers. Thank you all for helping us get one step closer to achieving our vision of making education and the arts accessible to every K-8 student in the Portland metro region!
Save the date for next year: Thursday, September 20, 2018!
Check out the first batch of photos and stay tuned for more on our Flickr page.
Check out #RightBrainSHIFT of Facebook, Instagram, and Twitter to get another taste of the event, too.
Be sure to follow us on Facebook, Instagram, and Twitter as we release more photos from the event.