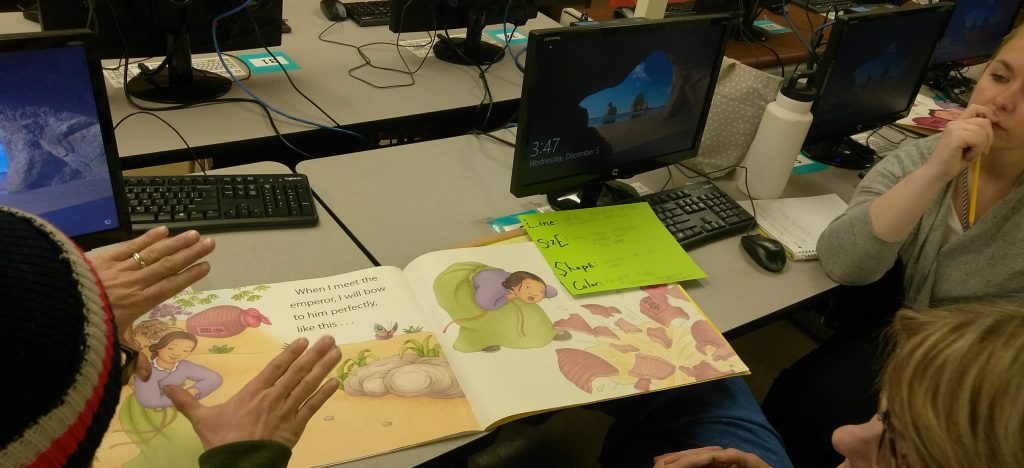 By The Right Brain Initiative Arts Integration Specialists
Since 2008, The Right Brain Initiative shares highly effective instructional strategies based on the arts with educators through professional development. Historically, teachers would attend Right Brain training where theater, dance, and visual arts "games" were paired with language arts, social studies and science lessons. Teachers then brought these strategies back to their classrooms and immediately saw how engaged and invested their students were in their own learning. The problem with this historical model was the unequal access teachers within the same building were experiencing. If a teacher did not attend professional development they then did not receive the same instructional tools as their colleagues.

Today, in our new model, we work with a leadership team at each school to support peer-to-peer learning rather than pulling teachers out of their classrooms. These leadership teams lead all-staff professional development allowing Right Brain strategies to be accessible to all teachers. Right Brain also wants to support the different learning styles of educators so we provide a Right Brain staffer to all our schools who can model these strategies in classrooms with students. This school year our Arts Integration Specialists will model in over 100 classrooms, planning in real time how to use an arts integration strategy to teach content and check for student understanding. By building teachers confidence in using the arts in their classrooms, students are now able to ask their teachers for the Right Brain strategies that make learning fun and accessible.

Research in educational best practices tells us that personalized, place-based learning is highly effective for both youth and adults. For teachers, the process of working with a teaching and learning specialist, or another teacher in their own classroom, enrich their professional learning experience. As a former school administrator and classroom teachers, Arts Integration Specialists Shannon McClure, Mariam Higgins, and Ashley Renfrew understand how challenging it can be to schedule peer-to-peer observations within the school day. This challenge often results in professional development for instruction taking place after the school day or off-site at conferences. While teachers report that they value engagement in these training in utilizing Right Brain strategies, they also report that they are less likely to try strategies on their own. They have returned to their classroom with new strategies, but without the real-time application for their unique learners, they may be uncertain of how to embed an arts integrative strategy in their practice.

When our Art Integration Specialists launch this new school year, they will begin to offer opportunities for teachers to schedule in-class demos of Right Brain strategies. Teachers have continued to show enthusiasm in this model as it enables them to make curriculum connections that align with their scope and sequence, understand classroom management with regard to utilization of space and technology, and differentiate instruction for diverse learners. They express that in-class modeling are highly relevant and culturally responsive, making them more likely to continue to utilize.

Arts Integration Specialists also help teachers identify parts of their curriculum that need a boost or content that they feel students could use more time processing. Often it starts with a conversation around "where do your students struggle?" We remind teachers that they do not always need be prepared for integrating art, which can be huge for a teacher with a lot on their plate. For example, one 5th grade class in Gresham-Barlow School District works with an Arts Integration Specialist to bring movement into their classroom. The teacher says her students have trouble identifying different parts of a story like rising action, arc, and resolution. With the in-class modeling, the teacher is able to observe how she can give space for her students to process the story through creating short movement phrases with their classmates.

Once teachers observe a strategy modeled and are familiar with the process, they are able to plug them in during the day where they see most fit. Right Brain works with education evaluator Victoria Lukich to compile and review feedback from teachers to review the impact of in-class modeling. This data assists Right Brain in continuing to offer relevant training in the future. As experienced classroom teachers, Right Brain's staff supports classrooms with open-minds and a depth of knowledge. Right Brain is eager to share, differentiate, and connect with learners of all ages. This co-teaching experience is an invaluable opportunity for students to access learning in new ways.  

Often issues with student behavior or attention are diminished, or not evident, as the teacher and Arts Integration Specialist deliver culturally responsive, highly interactive strategies. These strategies allow students to construct their own understanding, take safe risks, create meaning, and build resilience and confidence. Integrating curriculum with arts often gives another 'on ramp' to understanding.  Students with learning differences and/or language needs have equal access to explore and grasp concepts, along with the invaluable chance to express themselves. Drumming a greeting allowed a student with neurodiverse attributes to experience being an integral part of a group, while moving, singing, and clapping – which helped develop their social-emotional learning. Having the guided practice of working with others to explore new ways to demonstrate, or even assess comprehension, gives students windows into real life, problem-solving, career options, and ways of thinking.  Having hands-on experience with arts integration strategies allow kids to realize their many other strengths and talents, which then leads them to employ these tools to help in other challenging areas. But the most obvious benefit, the fun – the sparkling smiles, genuine laughter, and recharging engagement says it all.