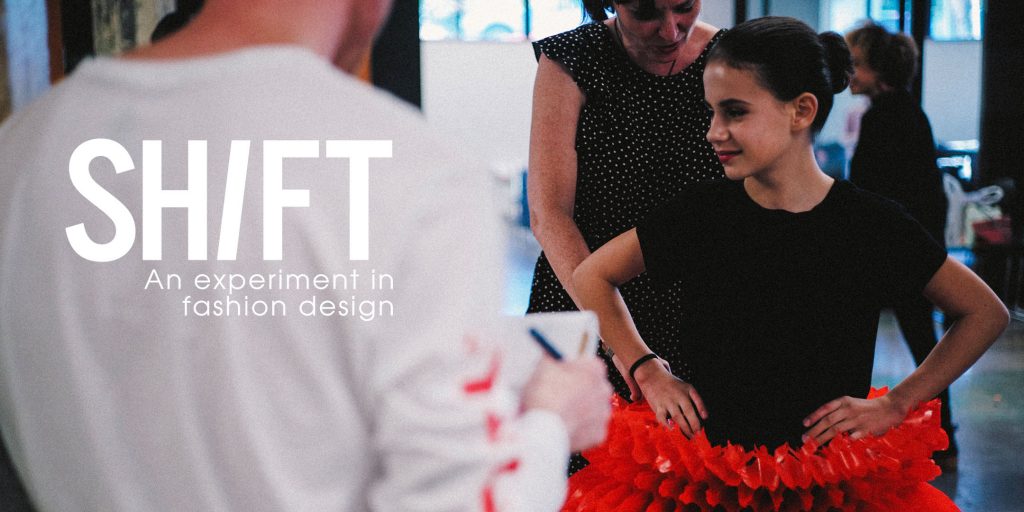 SHIFT: an experiment in fashion design is back! For newcomers, SHIFT is The Right Brain Initiative's cornerstone fundraiser and fashion design competition. Makers of all ages and skill levels are invited to submit garments made from nontraditional and found materials. Each piece displays inventive form, style and a creative juxtaposition—shifting the materials from their original form into wearable couture. A panel of local celebrity judges award cash prizes to the top three designers/design teams and one designer/design team, will be named People's Choice by our audience.
Now in its third year, SHIFT has become a platform for creatives as young as seven years old to established designers. It is more than a fundraising event, bringing a community of philanthropists, creatives, youth, families and educators together to celebrate equitable education, creativity in the classroom, and innovative fashion (it's also a great time to boot). As one designer put it, "[SHIFT] was one of the highlights of my year." We here at Right Brain most certainly agree!
We will be releasing our 2019 Call-to-Designers Application on March 27, 2019 (deadline to submit July 1). The application will be available online (pdf download) or by request (see contact information below). In addition, we will also be offering two SH/FT Designer Info Sessions where we will share information about the application process, design inspiration and answer any questions. Early submission is encouraged, as the curated show will only allow for 30 lucky entrants!
Interested in learning more? Info sessions are free and open to all. Please RSVP via Eventbrite below:
INFO SESSION 1: Thursday April 4, 5:30-6:30 PM (Location – Regional Arts & Culture Council)
INFO SESSION 2: Thursday May 16, 5:30-6:30 (Location – Portland Institute for Contemporary Art)
In the meantime, please save the date for the runway show, which will take place on Thursday, October 3, 2019 (6:00-9:00 p.m.). This year we are excited to announce our first ever theme: House of the Absurd! Inspired by the nonsensical imaginings of the Dada art movement, we invite designers to explore this whimsical world of the unexpected. Where will the House of the Absurd take us? Come to the show to find out!
For inquiries, please contact:
Mia Reiko Braverman
The Right Brain Initiative | Regional Arts & Culture Council
411 NW Park Ave, Suite 101 | Portland, OR 97209
503.823.5428 | [email protected]