This spring, Young Audiences and Right Brain roster teaching artist Caren Graham modified a drama residency she has conducted for years at Glencoe Elementary, adapting it for distance learning while students were unable to gather in the classroom. She had some great insights on this new experience to share with educators and other teaching artists in a written interview, edited for length and clarity below.
You can also check out one of the videos Caren created for this residency on our free playlist of short form arts experiences for kids!
What did you do that was different from your usual classroom residency?
Every spring the Glencoe Elementary 5th graders do a historical research and writing unit, and in my residency I teach the students drama skills and prepare them for a performance of their historical character monologues in a "Living Museum."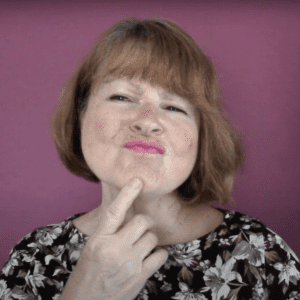 Since I could not be physically in the classroom this time, I worked with the teachers to modify the residency toward the goal of a virtual performance.
I created a series of videos with narrative and acting segments based off of what I do in the classroom, and included student practice exercises for them to explore with their monologues. I also met with the students virtually.
What were the biggest challenges and how did you approach them? What went well?
I couldn't coach the students in person, but in the virtual classroom each student shared and acted out their historical characters for me. It was exciting for them to portray what they were discovering about their historical characters, and we came up with some acting choices together on the spot in the virtual classroom just as we would in person.
In addition to coaching myself acting in a historical monologue in the videos, I included examples for practice in voice and body techniques so the students could refine and prepare after the video sessions. While this was different from what I normally do in the classroom, the students were enthusiastic about the videos when we met online, and the teachers were able to utilize the videos during their time with the students as well.
One thing I thought helped make the videos successful was that I wrote out a script for each one, which helped me edit the lessons down so the videos featured less talking and more "doing."
What elements of the residency experience do you think were lost due to being unable to share physical space? What elements do you think were improved due to the virtual space?
Online, I had more limited time with the students than in an in-class experience, and of course I missed being present with them in person, but it was still fun getting to connect virtually and offer coaching suggestions for their character development and performance ideas.
One of the positive sides of the virtual meetings was that when it came to sharing their monologues with me, some students seemed less pressured, stage-fright-wise, and more comfortable in their own domain.
LIVE THEATRE is magical and nothing replaces the energy and magic of a live theatre experience, but filming their characters for a virtual show gave the students another kind of arts experience entirely, and that is also exciting.
Is there anything else you would say to educators and other teaching artists considering conducting their own virtual residencies?
Using video, imagery, captions and sound effects can be very helpful for engaging students. Making it almost like a video game could be awesome, and is something I am thinking of collaborating with my son to do in the future!
Bringing generational teaching experiences together with the creative and technical savvy of youth—what a fantastic combination for forward-thinking teaching practice!