With the enormous challenges that our world, our country and our community have been reckoning with this year, I sincerely wish you safety, health and well-being as this year begins to wind to a close.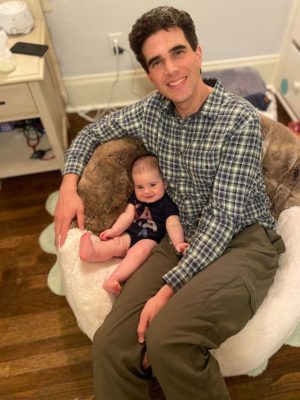 In this season of gratitude, reflection and change, I am writing to share with you the news of a transition at Young Audiences of Oregon & SW Washington. After more than seven unforgettable years as Executive Director, I have made the very difficult decision to bring my time at YA to a close and become a full-time, professional dad to my daughter, Sadie, born in March of this year. I will continue to serve in my role as Executive Director through the end of January 2021. YA's amazing board, staff and I are working closely together to ensure seamless service to our community and a smooth transition of leadership.
As excited as I am about my next steps, I am also quite sad to be leaving YA. I care so much about this organization, and about the community of youth, artists, educators, supporters, advocates, staff, board members, and families (i.e. you) that make it so special. Thank you for the gifts of joy and creativity you give to tens of thousands of kids in hundreds of classrooms across our region every year. Your support is an inspiration, and I remain deeply committed to YA's mission "to inspire young people and expand their learning through the arts." I'll just be narrowing the scope of my personal focus to one young person in particular for this next chapter of my life. 😉
I can never thank you enough for your belief, support and partnership over these past seven years. You have always answered the call when Young Audiences and I have asked for your help to meet a need or to make a dream a reality for the young people of our community. I hope that you are as proud as I am of all that we have accomplished together. From launching the Live SET (Sound Engineering for Teens) and Teaching Artist Studio professional development programs, to expanding our services to Central Oregon; from the deep research of the Arts for Learning project, to joyful collaborations with organizations like Boom Arts and the Portland Gay Men's Chorus; from beginning to refocus our programs through an equity lens, to undertaking the critical and ongoing work of building an anti-racist organization that fully reflects the community we serve; from ensuring the sustainability of The Right Brain Initiative by making YA its home, to commissioning visionary local musician-composers to create bold new work with students, you have made so many life-changing experiences possible for the kids of Oregon & SW Washington.
I am forever grateful for the confidence you have shown in our ability to get things done together for our community. Because of your commitment, Young Audiences of Oregon & SW Washington is in strong position to weather the storms of our time, and to keep evolving and growing to meet the needs of our region. I would love to speak with you individually over the next couple of months and say "thank you" personally. Beyond that, I look forward to seeing you at future YA events (online and, ultimately, in person again), as I will continue to be a strong supporter of YA. It has been one of the greatest honors of my life to serve this organization and this community with you, and I will treasure this time always. Thank you.
Gratefully,
Cary Clarke