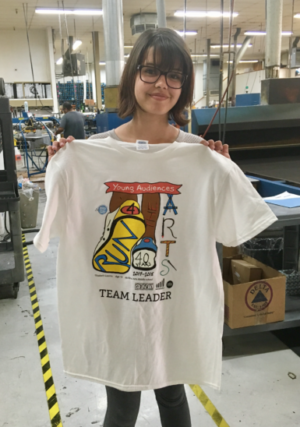 Since 1977, Young Audiences has been facilitating Run for the Arts jog-a-thon fundraisers for schools to support their arts. This year (17-18 school year) we are celebrating our 40th anniversary of Run for the Arts. We are proud to say that in that time, we have helped schools raise more than 17 million dollars for art experiences and supplies.
One of the events most prized traditions is the annual Run for the Arts t-shirt, and t-shirt design contest. Students from all over submit possible designs which are narrowed down to finalists by staff. The finalists are then voted on by the public and one student's design is chosen to respresent Run for the Arts for all participating schools.
This year's design winner is St Mary's freshman (and da Vinci alumna), Elizabeth Loomis. Elizabeth recently joined us for a visit first to MEK Design to meet with Miguel, the graphic designer who helped helped transform her drawing into the sponsor sheet, poster, and t-shirt artwork. She also got a chance to visit Oregon Screen Impressions for a behind the scenes tour to see the full screen printing process for her shirts.
We took some time to get to know Elizabeth, and this month, she is our featured YA artist!
Do you consider yourself an artist?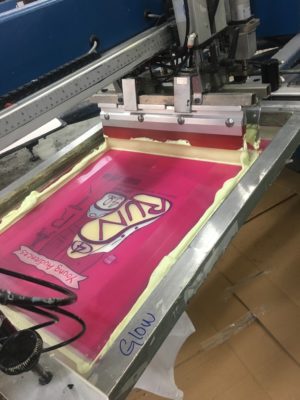 "I do consider myself an artist, but I didn't really even draw until I went to da Vinci." Elizabeth shares.
This past year, Elizabeth chose to focus her 8th grade capstone project on 2-D artwork and drawing after recognizing that she really enjoyed the sketch stage of other projects. Her focus this last year was on drawings with some type of strange element.
"Maybe you have a drawing of a person, but you look closer and notice that something is different, or a butterfly but there may be some pieces missing."
What are other things that are important to your identity?
"I love listening to music. All kinds of different music. One of my favorite groups right now is the Struts because, even though they are a newer band, they incorporate lots of elements from other decades of music."
Music runs in Elizabeth's family, her uncle was the drummer for the legendary Portland punk band Dead Moon.
Did you participate in Run for the Arts? What do you remember most about doing that?
"It was always really fun to do Run for the Arts. We would wear really bright colors and get to be outside. They set up a running course and a walking course. The running course was where you would go to challenge your friends to see how many laps you could get. If you got tired, you could have your friend give you a piggy back ride for a little bit."
Where did you get the idea for this t-shirt design?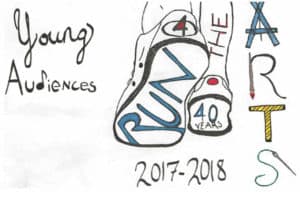 When Elizabeth was assigned the T-shirt design contest as part of her 2-D art class, she tried to think through ways that she could create a unique design. More people were focusing on showing the arts and she wanted to start with the running. She found reference pictures of tennis shoes in different positions and chose the one that felt the most interesting. She also wanted to bring some elements of art forms into her design so she made the letters out of a compass rose, a paintbrush and a sewing needle
Why do you think an arts focused education is important?
"Art helps you learn. People look at da Vinci and think that as a school it will not teach you well in subjects like math and science because it is a school with an arts focus, but that is not true."
Elizabeth shared that in her experience, the arts can be presented with other subjects in a way that helps students be more excited about them and helps them be more fun. For example, a history teacher may have their class journal as a writing assignment, but also have them curate small momentos from that person's life.
"it helps you be more excited about things. It helps them be more fun."
Elizabeth pointed out the in a recent national science test, da Vinci students placed at the same level as the science and math magnet schools in the area.
Why do you think art is important for communities?
Without art everything would be bland. You may be walking down a street and see a mural and even if you do not know who made it or why they made it, it can affect your life. It may inspire you to create something or it may make you think about that space in a different way. It changes a community.
Young Audiences is grateful to Elizabeth for sharing her artwork.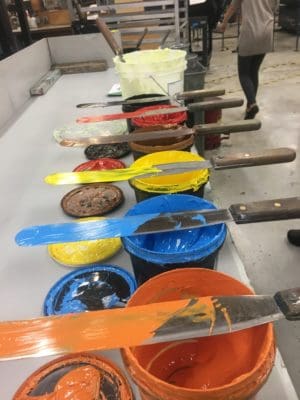 Do you know an amazing student artist who should know about this competition? Let us know! (youngaudiences@ya-or.org) We will make sure you are on our email list. We will take submissions for next year's design starting in May of this year.
Do you know a school who would benefit from an arts specific fund raiser? Spring Run for the Arts sign up is available now. Check it out.