Bright Moments and the Camas High School ChoirFriday, April 13
Doors 6:30 pm / Show 7:00 pm
Portland Institute for Contemporary Art (PICA)
15 NE Hancock St, Portland
$10 advance, $12 at the door
Tickets at http://bit.ly/2IuBu5F
On Friday, April 13, join Bright Moments and the Camas High School Choir for an unforgettable concert that explores the exponential advancement of human technology and the notion of human progress.
This concert is a collaboration of the Camas High School Choir under the direction of Ethan Chessin, indie-rock musician and composer Kelly Pratt, and arts education nonprofit Young Audiences of Oregon & SW Washington. Building on the success of a composer-in-residence partnership that Young Audiences fostered two years ago between experimental art-pop band AU and the Camas High School Choir, Pratt has been working with Chessin and his students this school year to create an original, hour-long performance for a rock band, horns and 200 high school singers.
It's the youth of the world teaching you a lesson that will stick with you forever.
The choir will be performing new music composed by Bright Moments, Pratt's solo project, specifically for this collaboration. The concert blends together a wide array of styles and genres — from afrobeat to metal to more traditional choral music — into a compelling intergenerational musical experience. In addition to Pratt, the high school singers and brass players will be joined by pillars of the local professional music community Dana Buoy, Lorna Krier and Justin Miller.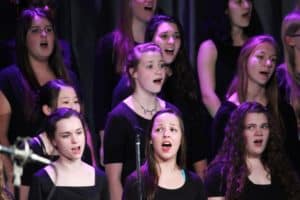 "The combination of wistful, haunting, and energetic songs takes the audience on a roller coaster of emotion," says choir student Laura Teames, a junior at Camas. Senior Tyler Vaughan adds, "It's the youth of the world teaching you a lesson that will stick with you forever."
The performance will be enhanced by simultaneous video projections created by the students in collaboration with Portland-based film director Alicia J. Rose.
The program culminates in three performances. The choir will perform at Camas High School for friends, family and faculty before their public concert in Portland, which will take place on April 13 at PICA. They will then go on tour to Seattle to perform at The Vera Project on May 24.
This show is proof that youth voices should be taken seriously.
And the students involved in this several-months-long project come away with more than just performances. Working closely with Chessin and Pratt, Young Audiences facilitates a Business of Music program that connects students with professionals in the music industry, such as film director Alicia J. Rose, recording engineer Jason Powers, and artist manager Gina Altamura among others. This year's program focuses on familiarizing students with the creation and distribution of recorded music in the internet age.
"Throughout this experience, these students have surpassed my expectations as they respond to every challenge with enthusiasm," says Chessin. "This show is proof that youth voices should be taken seriously — their wisdom, talent, and passion radiates from every aspect of the performance."
The Camas High School Choir program has earned praise around the Northwest for its engaging performances of unique, diverse repertoire, including collaborations with local musicians Sama Dams, Alan Singley, Point Juncture, WA, AU/Luke Wyland and more. In recognition of his dedication, innovation and excellence as teacher, Chessin was named Regional Teacher of the Year and Camas School District Teacher of the Year in 2017.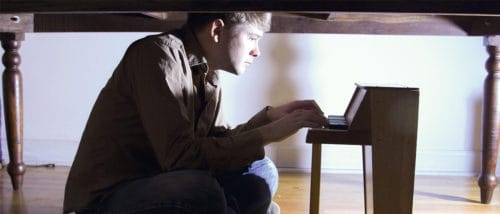 Bright Moments continues the choir's trend of cutting-edge collaborations. From 2006–2012 Pratt was a full-time member of indie-pop outfit Beirut, contributing arrangements, brass/woodwinds, and vocals. He has performed and recorded with hundreds of artists including Arcade Fire, LCD Soundsystem, Coldplay, and Passion Pit. In 2012 and 2013, he collaborated with David Byrne and St. Vincent, providing arrangements for their album "Love this Giant," as well as serving as arranger and musical director for their world tour. He is currently touring with Father John Misty as an arranger, conductor and multi-instrumentalist.
The collaboration with Camas High School Choir is one of many arts education programs facilitated by Young Audiences of Oregon & SW Washington. Young Audiences offers a full range of educational arts programming in multiple disciplines and cultures and serves over 70,000 students in more than 200 schools and community sites each year. The organization supports a roster of talented teaching artists, bringing them into collaboration with schools for artist residencies, workshops and performances; and partners with local schools, arts organizations, artists and community members to inspire young people and expand their learning through the arts.
This program is supported by the Camas Education Foundation, The Oregon Arts Commission, a state agency, and the Portland Institute for Contemporary Art (PICA). Kelly Pratt has been awarded Career Opportunity Grants from the Oregon Community Foundation