To attend the special dress rehearsal performance and reception for students and their families and friends, RSVP here. More information on the event page.
Portland Gay Men's Chorus (PGMC) will be hosting the Beijing Queer Chorus (BQC) this month in the Chinese chorus's first public U.S. tour. This artistic and cultural exchange will feature several joint performances, including two concerts open to the public, a special dress rehearsal for students and their families, and a closed concert at Grant High School that will be the Beijing Queer Chorus's first-ever performance in a school setting.
"We have two public performances," says PGMC Executive Director Richard Jung, "but I am actually most looking forward to our closed dress rehearsal performance." PGMC is collaborating with Young Audiences of Oregon & SW Washington to host this special dress rehearsal performance, which is open to all students and their families and friends, with a special invitation to all GSAs (Gender & Sexuality Alliances / Gay-Straight Alliances) and other queer youth groups in the area.
"Many chorus members still perform in masks to protect their identities.
"When Rick and PGMC approached us about collaborating to build their education program, we leapt at the opportunity," says Young Audiences Executive Director Cary Clarke. "Young Audiences exists to leverage the creativity in our region for the benefit of young people, and it's a dream opportunity for us to help this important arts and social justice organization share their compelling story and rich artistry with the youth in our community. The joint concerts with BQC are going to be an historic musical and educational moment for so many people, young and old, and we are delighted to be a part of it."
"I think the interaction that will take place between our young people and the choruses can really have a profound impact," says Jung, "not only by helping young people understand the trajectory of the gay movement and the struggles that many parts of the world are still experiencing — some of which are starting to reemerge here in the US," says Jung. But also by "helping older generations better understand the unique perspective these young people bring to the table, and their amazing energy and commitment to social justice."
This free event will take place on Friday, March 16 at Kaul Auditorium at Reed College. In addition to the dress rehearsal performance, the evening will include a mask-making activity, a Q&A, and a reception where students can meet and interact with members of the choruses. RSVP here.
"Students will be creating masks to showcase an aspect of their identity, as a way of reflecting on how and why the BQC uses masks to hide their identities," says teaching artist and Young Audiences' Professional Development Coordinator Tony Fuemmeler, who will be organizing and leading the activity at the event.
BQC was formed in 2008, and many chorus members still perform in masks to protect their identities, though the number of performers that choose to continue their anonymity decreases each year as acceptance spreads.
I think organizations get comfortable doing the same old things and not being challenged.
PGMC has a similar history, says Jung. "PGMC came into being in 1980 in the aftermath of the Harvey Milk assassination, and there was this movement towards creating social and artistic networks that felt safe to the gay community. When PGMC started it was only the 4th gay-identified chorus in the country, and a lot of our members in those early days actually were noted in the program as 'name withheld' and stepped out of photos — there was this need for anonymity to protect themselves."
PGMC has hopes to engage with students in the long-term, and this collaboration with BQC may serve as a jumping off point for something more concrete in that arena. "The idea of working with Young Audiences was to take a look at where we might be able to have an impact," says Jung. "I think what we're going to have to do is take a look at what issues resonate with kids and how we can create artistic programs that support them and are actually useful."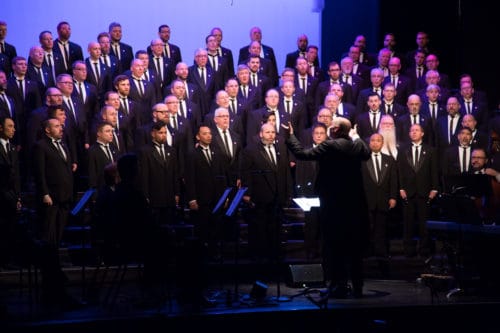 This summer, PGMC will be the first LGBTQ chorus to tour China. Jung expects this whole undertaking — the tour to China, the BQC collaboration, the youth engagement, and the collaboration with Young Audiences — to help PGMC grow as an organization based in social change. "I think organizations get comfortable doing the same old things and not being challenged," he says. "The kind of generational cross-pollination that happens when you bring a youth perspective into an organization that has been around for thirty-eight years can be challenging and invigorating at the same time, and when you throw something like BQC into the mix, the clashing and merging of cultures and experience can cause an organization to rethink itself and reimagine its perspective on the world. Hopefully we're healthier because of it."
The dress rehearsal performance is open to all students and their families and friends, and will take place at the Kaul Auditorium at Reed College on March 16 at 5:30 PM. The event is free, but please RSVP through Google Forms or by email to koko@ya-or.org.
The two choruses will be performing a public concert March 17–18 at the Kaul Auditorium at Reed College. The concert, titled Pacific Voices, will feature original works and new translations highlighting many cultures of the Pacific.
Between performances over the course of BQC's visit, the choruses will be meeting with local organizations and doing some sightseeing, including a visit to the Lan Su Chinese Garden, a Portland Trailblazers game, Portland Center Stage's production of The Magic Play, and a tour of the Nike headquarters where BQC will perform for the Asia Pacific & Friends Network and the PRIDE Network.
Founded as the Shiny Jazzy Chorus in 2008 at Beijing LGBT Center, the Beijing Queer Chorus is now the largest publicly performing LGBT chorus in mainland China. With a widely varying repertoire from classical music to folk, jazz, and pop, the chorus's aim is to challenge preconceptions—both musical and social—in society, while providing a social network for its members.
Portland Gay Men's Chorus is the fourth oldest operating queer choir in the United States. They started in 1980 with 15 members. They were the first gay men's chorus to allow women and to have women in leadership, and the first to allow trans members. The chorus aspires to expand, redefine, and perfect the choral art through eclectic performances that honor and uplift the LGBTQ community and affirm the worth of all people.
Young Audiences offers a full range of educational arts programming in multiple disciplines and cultures. The organization connects a roster of talented teaching artists with schools for artist residencies, workshops and performances; and partners with local schools, arts organizations, artists and community members to inspire young people and expand their learning through the arts.