by Sarah Ferguson
Play with color, pattern and shape as you create a collage artwork. Young artists will cut and tear shapes from colorful papers to use as they design and build their collage.
Learning Target
● I can use shapes, color, contrast, and pattern to create a collage artwork.
Materials
● 5 sheets of construction paper in different colors
● Pen or Sharpie
● Scissors
● Glue or Glue Stick
Instructions
Studio note: Use a piece of white sketchbook paper as a placemat for your work before gluing or using a Sharpie. This will protect the table.
1. Choose 5 sheets of construction paper in different colors, set aside one sheet for the background.
2. Fold four of the papers in half and crease along the fold, cut each paper in half along fold—set aside one set of papers, and use the other set to make Pattern Papers in step #3.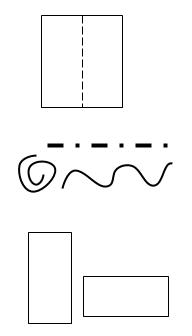 3. Pattern Papers increase the variety of collage papers. Take one set of the color papers and use a pen or sharpie to create a different line pattern on each paper. What are some different kinds of lines you can think of: wavy, zigzag, swirls, dots, scribbles, what else?
4. What is your idea for your collage? What shapes and colors do you want to use? The design can be anything you like, your choice.
5. Take the paper you selected for the background and decide if it will be vertical or horizontal.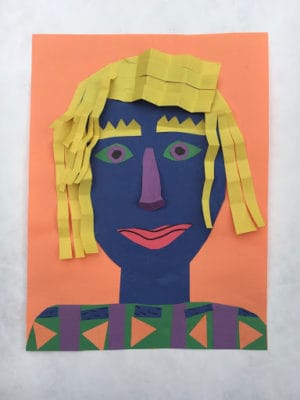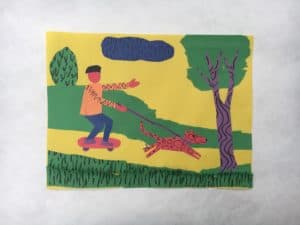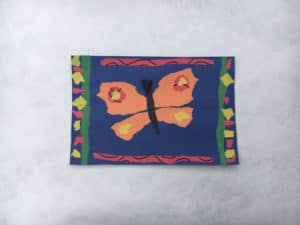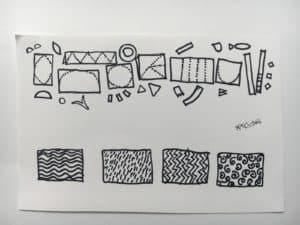 6. Think of the shapes and colors you would like to use to make your design. Experiment with cutting and tearing shapes from the different papers and layout your design on the background paper. You can add other colors if needed.
7. Optional: Create texture by folding, fringing, or curling some of the papers, so parts of the design pop out from the background.
8. When you are satisfied with your design, you are ready to glue. Pick up each shape one at a time, add glue with the glue stick, then press it in place on the background paper. Parts that you want to pop out from the background need to have glue only on the part that will lay flat. Continue to glue down each shape until the collage is complete. Use a paper placemat to protect the table when gluing.
9. When your art is complete, add your artist's signature.
Reflection
Write in your journal or sketchbook
● Place your finished artwork on a clean sheet of white paper. Share your art with someone.
● Can you describe the process you used in making your collage, how did you choose the shapes and colors?
● What would you like to try for your next collage? What would you do differently?
● Teach someone in your family how to make a collage.
Extra
● For more collage art ideas, see children's books by artists: Andrea D'Aquino, Eric Carle and Lois Ehlert.
● You can also check out: Henri Matisse paper cutouts, and Romare Bearden collage art.